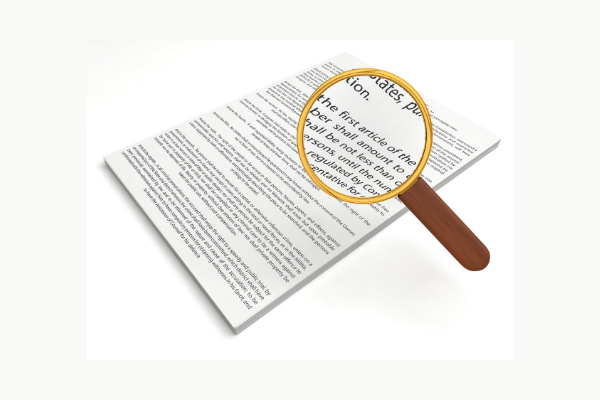 Everything you put out there to attract more business is a message. The success of that message is getting someone to read it.  Much of the time, it misses the mark. It doesn't get read because it's hard to read.  Readable quality is critical for sales.
When a message is hard to read, it actually causes brain fatigue. Most of us have a built-in auto-fix—the delete key.
Here's an example of poor readability:
Infectious diseases caused by pathogens and food poisoning caused by spoilage microorganisms are threatening human health all over the world. The efficacies of some antimicrobial agents, which are currently used to extend shelf-life and increase the safety of food products in food industry and to inhibit disease-causing microorganisms in medicine, have been weakened by microbial resistance.
That little gem, written by a scientist, is written at an FK post-graduate level 14. It has all the earmarks of being hard to read. Most people will read a few words and skip the rest.
Often in health, finance, or science, we need to share complex ideas. Making them more readable is all in the editing process.
If we change the above message to read:
Around the world, diseases and food spoilage threaten health. Pathogens constantly change. They morph into a variant. Current antimicrobials are less effective. We need to discover new ways to kill these strains.
The reading level drops from a 14 down to level 7. We are saying the same thing, but in a way that takes less brainpower to understand.
Outcome? Your reader stays with you.
Why you need to ditch what your English teacher said
Schools teach writing rules. Those rules are great—to get you through college and be able to write the kind of reports that met a standard.
Those reports weren't marketing. They were academic standards.
Science has proven that our brains trust simple words over complex ones. That's why many of the great novelists wrote using FK scores of 4-7. They didn't write simple books. They wrote books that were easy to read. Of Mice and Men was an FK 3.4. To Kill a Mockingbird a 5.9 and Gone With the Wind a 7.0. Ernest Hemmingway's Old Man and the Sea comes in as a 4.
The scoring system, FK, Flesch-Kincaid, is easily related to US school grades. So a 4th grader could read and understand Hemmingway.
When marketing products or services, we need to write conversationally.  As a copy/content writer, I trained in the art of persuasive writing. It has to be friendly, engaging, and easily readable.  
The younger the audience, the shorter their attention span. The message has to get the reader's attention quickly and hold it. Hard-to-read material doesn't do this.
One thing to keep in mind...
Readability won't fix a poor message. It just makes it easier to read. Start with the best content for your target audience. Focus on content first and get the copy crafted.
Once you have it written, then go back and edit it for word choice, passive voice, and structure.
3 Techniques for getting readable
Shorter sentences, simple words, shorter paragraphs all combine to make your message more readable.
Newspapers or magazines score between a level 5 and 10.
Anything above a 10 is considered very hard to read.
Good copywriters stay at 8 or below.
Shorter sentences
The first thing to look for is long sentences. The more words in a sentence, the harder it is to read. Look for ways to break long sentences into shorter ones.
If you're not sure whether a sentence is too long, here's a simple trick. Read it out loud. If you run out of air and need to take a breath—shorten it. You can also use ellipses or dashes to break a sentence.
Word choice
The more letters or syllables in a word, the harder it is to read. Look for a shorter synonym. Efficacy has four syllables. Power, success, or use are all better options.
Keep in mind that 50% of US adults have a reading ability at grade eight or less. Maximize your marketing efforts with a message at an FK 8 or below.
Shorter paragraphs
As with words and sentences, paragraphs need to be kept short. Look for sections that involve more than one idea. Break them into shorter segments.
In web content or anything to be read on an electronic device, keep the maximum number of paragraph lines to five or less.
Don't trust your big screen desktop to give you an accurate line count. Use an edit option to view your copy on a mobile device. What looks great on the computer screen may be hard to read on your cell phone.
Shorter paragraphs create white space—the gaps between paragraphs. They let the brain relax and reduce fatigue.
Long paragraphs are like a monologue, and people stop reading.
When I work with clients
Even before I start working with a new client, I visit their website and look for how readable it is.  I use one of the popular readability checkers and copy-paste content and see how they score.  On our first visit, I share tips with them to improve the return on their marketing investment. 
Getting your quality content readable is an evergreen investment that improves sales. https://jcpwellnesscopy.com.