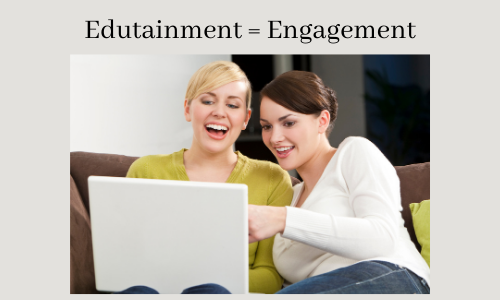 "Edutainment" content is a secret weapon to get viewer's attention and engage them. 
Our prospects spend a fair amount of time scrolling through social media or searching online. Subliminally, they are looking for answers to nagging problems.
"Edutainment" content is a secret weapon to get viewer's attention and engage them.
IF we can catch their attention and keep it, we have the opportunity to help them.
So what's edutainment?
The first time I heard of edutainment was about 15 years ago when I attended an instructor continuing education workshop. The educator was smartly dressed and pulled together from head to toes. She was in the beauty industry, after all.
"You can't teach someone if you don't get their attention."
I remember jolting more upright in my seat. I knew it was true but had never thought of it that way.
The presenter slapped a silly fishing hat festooned with lures on her head. People giggled. She smiled.
"See, I've got your attention. If we can hook the student with a prop or change of approach, we can share.
"Teachers need to be more than educators. They need to employ edutainment."
It changed the way I taught, and the students loved it.
If you tune into any "kids" channel, you're likely to see edutainment in action. Catchy tunes, graphics, and tidbits of education cloaked in fun.
Southwest Airlines does a great job of incorporating edutainment into its pre-flight message. Delta has done the same in their pre-flight video.
Both take a serious subject and make it easy and memorable.
Edutainment also works for your content.
I found making dry content more interesting applies equally well to marketing. If we can pleasantly surprise the reader or make them smile, we have their attention.
Edutainment is simply entertaining education.
Over the years, I've done a lot of content revision. I take challenging, dull, or complicated subjects and make them more accessible and exciting to read. The result is more engagements.
It works for all types of content, from web pages to articles, blogs, and emails.
One thing to keep in mind
You need to stay true to your voice. You can lighten up and take a more friendly tone, but it needs to be in a way that is consistent with your brand.
The last thing you want to do is send mixed messages.
3 keys about edutainment content
The key to engaging customers is sharing your brand's story. More than just the story, customers want to know the people behind the brand and its personality.
So if your content reads like a how-to assemble for home office storage cubes, that's like skating on thin ice. Snoozeville. Many people will tackle the job and never attempt to follow boring directions.
Start with your story.
Revisit your story, your people, and the personality. Look for ways to create positive links. You want to link your brand and the positive experiences the person will have with it. How can it help them overcome a challenge and enjoy the benefits?
Break it into tiny snippets. Let each snippet share a tidbit of information showcased in a mini-story.
Mixed approach
You'll need to appeal to both sides of the brain. You need to engage both the logical side of the brain as well as the emotional side. When done well, you don't realize it's happened.
The mini-story is subtle, not blatant in its approach. It doesn't work if you're too obvious.
It has to logically work at the same time that it's entertaining our emotional side. Then it can subtly address our pain points and help us feel better, be happier, and enjoy life more.
Try video
Because of their visual nature, videos are instantly more entertaining. The content is generally less than three minutes, with the most popular well under one minute. Short gets more engagement.
The absolute best example of this is excellent inspiration.
So how would you take a dull topic like deodorant and turn it into edutainment on steroids?
A company did it. Which one? Old Spice. It saved the company from bankruptcy. The first series was titled "Smell like a man."
The theme shared how your guy could at least smell like this great-looking actor, a football star—even if he couldn't look like him. It was released in 2010 and has undergone various theme changes to keep up with an evolving market. But the pattern is still running today.
Their videos are among the top-watched on YouTube. The most-watched was one in the "Men have skin too" series with 59 MILLION views. Did I mention Old Spice now dominates the deodorant market?
It just goes to show anyone can benefit from a revamp. Out with dull or boring. In with edutainment.
So, how can Your brand's story become more edutaining?
---
Your quality online content is critical to stay competitive. Ready to attract new buyers, increase lifetime buyer value, build sales, and more engagement? You need quality content. Let's have a quick chat. You can message me: [email protected].