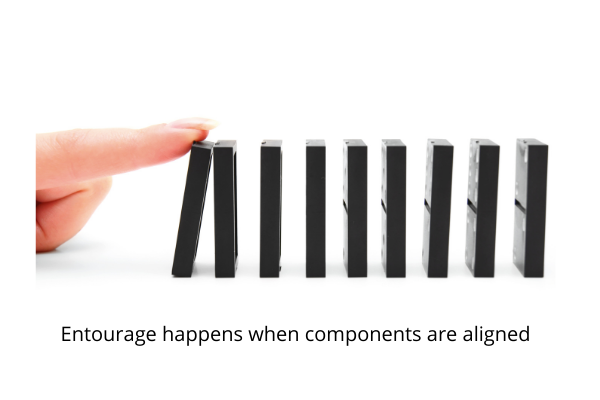 The entourage effect impacts many aspects of our lives. The CBD niche has highjacked the term to mean how the different plant parts work together.  However, the word entourage is not new. It actually traces back to a French term dating from 1832 meaning surroundings or environment. 
The French were referring to a group of people, but it is equally applicable to many things in life and business. Everything from formulations, to health and marketing.The power of the components of the entourage greater than the individual parts.
Entourage effect for health
Like many people, I managed to pick up a few COVID pounds and wasn't happy about it. So I started trying different techniques to get rid of the sneaky ten.
Research showed you need three factors to maximize health—adequate sleep, exercise, and the right food choices. An entourage effect. All your surroundings/environment working together to maximize the result.
I found daily walks made me stronger and I lengthened them to two-three miles daily. I could see changes in the mirror, but there's a problem. A pound of muscle weighs exactly the same as fat, it just takes up less room. While I was looking better, my weight didn't change.
An evening routine to reduce exposure to blue light, (think electronics) and adding a melatonin supplement, improved sleep.
A fitness tracker where I could track food choices was the third factor. I didn't focus on "dieting." Instead, following healthy nutrition choices for my body type.
That made the difference. An entourage effect is necessary for success.
Entourage also works for business marketing
In my 25+ years of work in the skincare industry, I earned that formulations are the key to a successful product.  Each botanical enhances the others for an entourage effect. You have to get the right ingredients in the right formula to have the desired outcome.  Then you have to recommend the right product for the right client.
In marketing, I've seen the exact same thing. Your marketing messages and strategy either work together as an entourage, or they don't. When you have mixed messages, you have confused prospects. Confusion is the biggest obstacle to a sale.
One thing to keep in mind
Whether you're creating a product or designing a marketing campaign, you need to know who it is being designed for. The right product, for the right buyer.
As a woman, I learned long ago, one-size never fits all. It's a myth. You need the right product, the right message, the right "fit" for success and repeat buyers.
Three techniques for the perfect entourage
To maximize an entourage effect in your marketing you have to be customer-focused. You build from the customer out. What are their needs and concerns? If you try to start with a product and try to figure out the customer after, you're likely going to fall short.
Start with your customer
Consider their demographics, psychographics and create a clear avatar for them. Who do you know like them? Spend time with potential customers. Learn not only about what they need, but how they find it and decide to buy.
Buying habits will tell you the best places to reach them. Their needs, fears, and concerns provide the RAS triggers to use in crafting your messages.
If you've created a new product, get it in the hands of those who need it. Get some real-life feedback—positive or negative. Run with the positive. Learn and adjust for the negative.
Their buying journey
It's helpful to create roadmaps of your customer's possible buying paths. Follow each one from where/how they connect with you through the predictable steps to the purchase.
I like to use a technique called the WOOP method. It's great for planning. W stands for what do they want or need. O is for the beneficial outcome they will get from getting that need met. The second O is for obstacles. What might interrupt their buying journey? And the P stands for plan.
Using your buying journey messages, include resolutions for every potential obstacle.
Did they get distracted? How can you bring them back again?
Look for issues like confusion, mixed messages, lack of proof including social proof. Validate pricing. Keep the pathway easy to follow. Eliminate any bumps in the road.
Craft seamless messages
Make sure every message supports the journey and connects the dots. They should each support the previous one.
Whether they encounter you on your website, social media, emails, or video—keep the messages clear and uniform.
Once created, look at all messages from the 10,000-foot view. Check to see they all flow and share the same tone, the same message.
---
Judith Culp Pearson is a digital relationship builder and a problem solver. She uses those skills to help clients— improve their marketing messages, better engage their clients, keep clients loyal, and grow their business.
www.jcpwellnesscopy.com