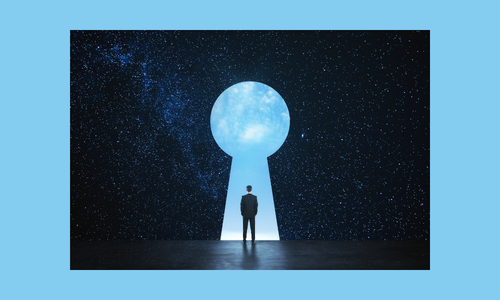 Awareness of opportunities can shift your marketing efforts to maximize success. More web traffic, higher rankings and more sales or leads enhance your value and income potential.
For marketers it's about recognizing or discovering business opportunities that are being missed. That leaves money on the table. Sales are missed and leads are lost.
A friend was asked to look at a website and give feedback. When Hugh looked, he saw the owner was a sculptor who made fabulous small objects that he sold. 
He asked the owner, "What do you sell?"
"I sell statues." the guy replied.
"Are you kidding me?" Hugh asked. "Man, these are really great. These are quality work. Just look at their faces. They're so expressive. You're not selling statues, you're selling collectibles, and you should be charging five times these prices."
Hugh saw an opportunity to reframe the offer and significantly increase business revenue.
You can set your brand apart from the competition by cultivating the art of opportunity awareness.
In my client work, I'm constantly on alert for opportunities or gaps that indicate things aren't working at optimum. I prowl websites, social media, analytics and interview feedback.
Opportunities aware
You discover opportunities by looking for gaps and filling them. In the example above, the marketer realized that when people bought a figurine or collectible, they were buying something that the item stirred in them emotionally.
Typically this is an emotion related to a memory. But if people like and comment on the purchase it also elevates the owner's status. He has something exclusive that is identity marked. It, like the Precious Moments figurines, can become very valuable.
If you had one of the first issue Precious Moments figurines made in 1978, you probably paid about $20 for it. Today that figurine would sell for $20,000-$30,000. Status and exclusivity.
That's where opportunity awareness comes in. Smart marketers monitor analytics and feedback from all of their teams to look for gaps where something isn't maximized.
Here's an example my marketing coach, Joshua Boswell shared with me.It reinforced the value of opportunity awareness.
One of his former clients reached out to him. His company had dominated the market, but the revenues had dropped from $20,000/month to $5000. Ouch.
The business owner was in a financially painful situation. He needed to get his revenues up to relieve that pain— a transformational journey. He needed to go from a low place or a pain spot to a better place with less or no pain.
So Joshua started looking for how to bridge this gap.
He started being curious and asking questions.
What kind of communications were sent to clients?
How frequently?
What were major players or competition doing well?
What are new smaller players doing? What was helping them grow and attract customers?
He discovered the business wasn't segmenting the list. He also learned that besides a purchase transaction, there weren't any communications.
Joshua advised the client to segment their list and send a nurturing email sequence appropriate for each segment. The changes took that company not back to 20k per month but $240,000/month.
Joshua made additional recommendations for other opportunities he saw that made for win-wins for both the business and himself.
So be curious and ask questions—play detective. Use analytics and research to understand what opportunities are being missed and how to fix them.
Consider these questions for starters:
Is the business meeting its goals? Why not?
Is it focusing on the target audience?
Are there multiple market segments that are being addressed individually?
What are the RAS triggers or pain points for that audience? Are they being effectively used?
Do they need better communication with that audience?
Can buyers find what they need? What's missing?
What are the stumbling blocks in the buyer's journey?
When I work with clients, this is where I start to help them discover solutions to increase their bottom line.
You might also like this article on using a brand persona.
---
Judith Culp Pearson is a freelance copywriter marketer. She focuses on her client's target audience and business goals. You need the right content in the right places to maximize results.
Need help? Message Judi[email protected], or visit https://wwwjcpwellnesscopy.com.