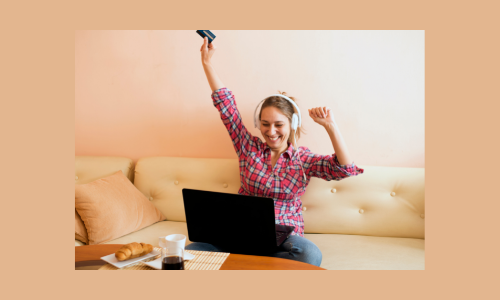 Glicken is a term often associated with receiving a bit of unexpected good luck or a lucky bonus. I once heard it called getting the piece of cake with the extra treat on top. Winning the lottery would be glicken. So would a surprise with your purchase.
People love getting extra bonuses—surprises, add ons, a treat. For a business, giving glicken bonds customers and builds lifetime loyalty.
My husband loves deals.
My husband is from Yorkshire in northern England. Like in Scotland, money is dearly held in Yorkshire. So if he can get a good deal on something he's already decided on, it's pure glicken.
Yesterday we attended a vintage motorcycle show and sale. He went to sell some parts and see what was out there.
After two years of doing without, motorcycle enthusiasts showed up in droves. They wanted to show off their bikes, shop for missing "project" parts, and visit. (A project is a current bike you're working on.)
When things slowed down, he went for a walk to explore for deals while I stayed at the canopy with his motorcycle "bits."
A while later, he returned with a smile on his face and a gleam in his eyes. I knew he scored a find. Someone was selling off all his bikes. The man had a terrific deal on some parts my husband could use or resell.
This morning I overheard hubby on the phone with the fellow. The guy had sold a motorcycle and dropped the price on what my husband wanted by $400, delivery included!!
For a Yorkshire man—that's pure glicken.
Glicken can work magic for your business too.
I used these unexpected bonuses with customers for years. They love being surprised, thanked, and rewarded.
When you bond a buyer and become their preferred go-to resource, the relationship can last for years or even decades. I've had it happen a lot. It's how you're successful in the spa/beauty industry. Repeat loyal customers.
They know you, like you, and trust that you have their best interests at heart.
They refer or bring family and friends because of the trust relationship.
No money can buy that marketing. It takes time and consistency to build this relationship, but the lifetime customer value makes it worth the effort.
Here's a secret
This loyalty relationship focuses on value as opposed to ongoing discounts. Shared interests, concerns, social values, reliability, quality, performance, and the culture of your business all are part of the value.
Today's buyer wants far more than a product or a service. They want relationships if you're going to keep them coming back.
3 techniques to create and share glicken.
A huge percentage of transactions today are online. So you need to capitalize on quick and easy—but often overlooked ways to build the relationship online.
Since online has become more crowded, you can make a massive impact by going offline.
Then top off your efforts with surprise rewards.
Maximize online techniques
Business e-commerce platforms come with built-in systems for communicating with visitors and buyers. Out-of-the-box they are very dull and transactional. They need to be customized to match your brand and your customers. They need to sound like conversations, not stilted text.
Personalize them using shortcodes, so the emails come to them, a person.
Test each one! I can't tell you how frequently I get an email that includes my name in the header but opens with: Hi [Fname].
You need to know what your shoppers are receiving. Think of it this way—accuracy builds more value.
Statistics show it is worth the investment to have automation set up to follow your shopper through the buying journey and afterward. Coach them past the abandoned cart. Don't neglect them after the sale. It's prime time to up-sell, cross-sell, and show them how to maximize the product's benefits.
Free reports, how-tos, and guides are all glicken to the buyer.
Connect offline for more glicken
In a world of emails, receiving something via mail is a novelty. When was the last time you got a birthday card or thank you note in the mail? It makes the sender stand out like a unicorn in a herd of donkeys.
Your value doesn't always have to be free. A print newsletter or monthly report could be glicken. People have a higher perceived value for something in print over digital. You might consider a subscription for a monthly print offering. If you have a target market of 55+, this demographic is the most likely to prefer print over digital.
Glicken rewards
In this value-based relationship model, rewards can be anything. It could be expedited handling and shipping for those over a specific threshold.
You might give your circle of buyers advance notice of a pre-holiday sale event, especially if there are limited quantities. Or let them be the first to hear about a new product launch. As previous customers, they may be ready to buy something relevant—and give you valuable feedback on it.
I had a company that tucked a small, tan, lumpy envelope in every order. It held a stick of cinnamon and a positive quote, plus a hand-written thank you. I loved those little notes.
If you have product samples, those are also great to tuck into the package—and trigger more sales.
How-to-use graphics tucked into the order can also cross-sell and enhance the buyer's experience.
Even the order itself can be glicken if they see you are making an effort to deliver the item using environmentally friendly packaging.
Online communications. Offline communications. And in-the-box communications can all build glicken and your lifetime customer value.
Need help finding glicken? I can help you discover glicken your customers will love. Message me: [email protected].