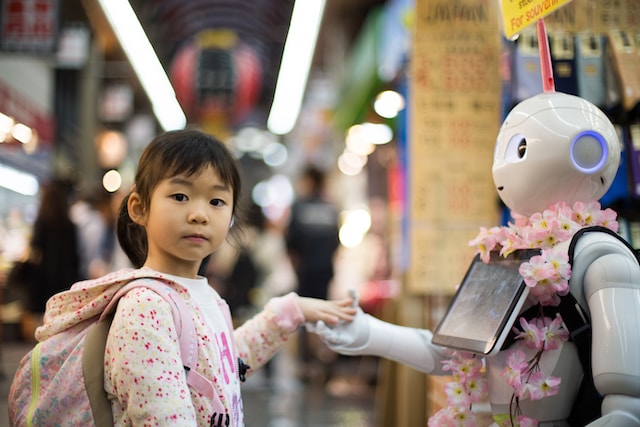 Choosing the best AI tool is essential for the growth of your business. You want the right AI solution to ramp up your productivity and get more done in less time. You can have your new assistant do the time-consuming work or mundane tasks. More free time, more projects, and better copy or content.

AI is not going to go away. More programs and apps are being released every week. And the next generation of AI will arrive in December of 2023. So it's time to dip your toes in the AI waters.

You can use AI for time and calendar management, content creation, and editing. You might have a single AI program or several. For example, if you've been using Grammarly, Hemingway, Alexis, or Siri, you've been using AI.

AI can be your new best friend if you have issues keeping up with your content workload. So do your research, and select the best AI tool based on your needs. You can even use it to be your first-level copy checker. Used right, you will keep improving your writing with your new tool.

Copy is being spat out faster every week. As a copywriter, that means we have to be better than ever. We need that quality content that is audience specific to grab attention in an ocean of noise.
Choose the best AI
If you're a copywriter or content writer, the answer lies in choosing the best AI tool. As David Deutsch put it, "AI won't replace copywriters. It will replace copywriters who don't use AI."

So what is the best AI writing tool? That depends on what you need it to do.

The advantages of using AI are clear. With the right tools, you can improve your writing in minutes. This means more work in less time. In addition, you may discover time to update older content and make it more effective. More time, more projects, higher income.

For business owners, you want tools to make your life quick and easy... like templates. Templates that will speed up your posts, emails, and getting social to schedule faster.

Writers putting out a lot of content may want unlimited access or to speed up SEO. They want to ensure there is no hint of AI detected, no plagiarism, and the content is accurate and easily readable.

Whatever the case, there's an AI out there for you. So, let's dive in and select the best AI for your needs today!
Understand your needs.
Understanding your needs is the first step to selecting the best AI for copywriting. For example, do you need AI to write compelling ads or landing pages? Are you looking for social media posts, product descriptions, or blog posts?

Maybe you're into long-form sales copy that you can convert to video scripts. Besides what it can write, you want to know what else it can do for you.
Are you looking for a grammar editor?
What about a readability checker?
You'll also need a tool to check for plagiarism.
How good is it at coming up with headlines?
What kind, if any, of SEO support does it offer?
Can you identify where it sourced material, or must you do that via Google search?
Test drive each tool you are considering.
Take your time and give it careful thought. Always do a test run before you make a decision. I've found the support documentation varies widely with each tool. Once you know your needs, it's time to research and compare different AI copywriting software.

Many tools can help you create basic drafts almost instantly! But, not all AI writing tools are created equal. In doing testing comparisons, I found that there are differences in how they write. But all have a boring, non-human tone to them. You'll find lots of passive voice.

Two content generators in the group I checked out have a "boss mode." This allows you to fine-tune the writing based on specific requirements. It's an upsell for the product.

Does the tool allow you to select the tone and style for your audience? Consider whether the AI software supports social media marketing copy, emails, articles, or blogs.

A good AI copywriting tool should provide easy-to-use templates. It should also have options to customize your output based on your brand. For copywriters, this is especially important. You want to be able to meet each client's needs.

Does it only work with new content, or is there the ability to edit existing work? This is another crucial advantage worth looking into.

What kind of integrations does it offer? I found one with a WordPress plug-in to transfer text and images seamlessly. But if you have a graphic design team, that may not be an attribute you need.
Pricing and trials.
Some AI copywriting tools have a free level, like ChatGPT. At this point, BARD is also free. But their bandwidth limits mean there are times you can't log in. I also found their settings and documentation limited.

Most writing tools have free trials or limited access before committing to buy. Try out each software you're considering with sample projects before deciding.
I found prices start as low as $20 per month, but the software pricing is inconsistent. The number of users drives up the price. Many offer a discount for annual subscriptions.

Look for customer reviews and ratings. Like shopping on Amazon, they are a great way to gain insights into how other users have experienced these AI tools. For example, I found one I liked and felt validated when reviews rated it a 4.9 out of 5.
In a nutshell...
Identify your needs and search and test different AI tools. Finding the right AI tool for your copywriting needs is a game-changer for your business.

Take advantage of trial offers! Check the reviews. I also recommend starting with a month-to-month subscription if you can. It's better than signing up for annual and finding it doesn't work well for you a month or two down the road.

Stuck, confused, or need help? I offer AI-assisted content, coaching, and help to wade through the confusing world of AI. Watch for my E-book on AI shortly. You can direct message me or email me: [email protected]