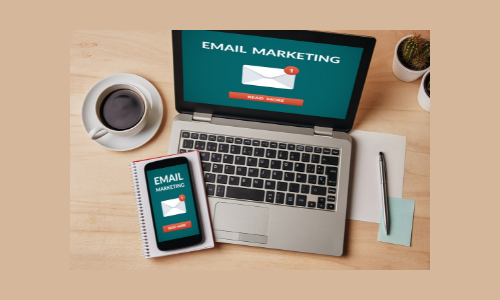 Email marketing can be one of the best or worst techniques. Properly done, it engages, informs, entertains, and helps prospects move forward in their buying journey.
However, when it's poorly done, you get deleted, unsubscribed, or worse—reported as spam.
The key is to get the right message to the right person in the proper framework.
The over-messenger
As a marketer, I frequently sign up to learn more about a company. It's a great way to build a swipe file and tells you a lot about the business.
I did this recently to help my disabled sister find a phone that would be easy to use. She needed a large screen, bigger buttons than a clamshell, and simple smartphone functions.
The emails descended like an avalanche.
"Sale! We're having a sale!"
"Sale! We're having a sale now through Friday!"
I wanted to know she'd have good support.
"Sale, sale...only 18 hours left!"
This was followed 15 minutes later by…
"Check our great sale and save a bonus of 25% off today only, plus up to $800 trade-in on your current phone."
Really?
Her existing phone was seven years old. It's an inexpensive clamshell with no camera, just the basics. She'd probably have to pay them to take it.
"Call our easy support number and schedule to pick up your phone before it's too late!"
Okay, I succumbed. Maybe I'd be able to get answers if I called.
"Hello, welcome to XXXX! We're experiencing higher than normal call volume. Please hold. Our next customer support person will be right with you." Click, pause—the voice comes back on the line; "Your support specialist will be with you in 48 minutes."
I hung up. It was the wrong message to the wrong person at the wrong time.
Mixed business messages undermine your credibility
When your business messages tell customers conflicting things, it has a substantial negative impact on your credibility. As a business person, consumer and marketer, I've seen this regularly.
In the scenario above, I wasn't looking for a sale. I was still in the first buying stage - information gathering. That meant they sent the wrong message at the wrong time. When this happens, the shopper gets confused, frustrated, and disconnects.
There is art and science behind quality emails that get results. The art is creating a great message. The science is selecting the proper recipients, testing headline responses, and using google analytics or the like to monitor your outcomes. It's also about employing the best SEO practices to maximize effectiveness.
Don't overlook this email marketing secret.
Emails aren't that different from some other aspects of a business. For example, if you have a meeting planned, its success is its purpose. If there isn't a reason, then there shouldn't be a meeting.
The same is true for emails. What is its purpose? Why is it being sent? Answer those, and you know who should and shouldn't receive it.
Three considerations to maximize email marketing
There are three core considerations to maximizing your email marketing.
Identifying intent and segmenting your audience, This gets the right message to the right person.
Have enough email content diversity available so you can cover all possible scenarios.
Incorporate SEO concepts to make sure both your recipient humans and search engine bots are happy with what they get.
Message Intent and recipient
Segment both message content and recipients according to buying stages. Segmentation is the way to get the right messages to the correct recipient.
The messages I received were sent to an entire list so I didn't get the information that I was looking for. Your email software and tech team should handle list segmentation for you.
The buying process starts by providing information. When the shopper changes search questions to using the word compare, they have moved to the next level. Comparisons help you you share why your brand choice is absolutely the best one. Only then are they ready to move into the buying phase.
There is one additional phase that many businesses miss—but where successful ones focus. It's called success.Tips or information to maximize their success with your product.
The more successful you can help them be, the more bonded they become with your business. Buyers in the success stage are more open to upsells and cross-sells that enhance the user experience.
The success step is your opportunity to turn a one-time buyer into a repeat buyer. Someone who is a fan that shares and recommends you to others.
Emails should cover all potential scenarios.
The most successful businesses have templates or drafts of emails that cover a wide range of scenarios. Then the sales team can quickly tweak them for the specific situation.
The messages need to be intent specific and cover the topic being searched.
The results are dramatically higher using sales-enabled emails over individually created ones. More uniformity of message and written by a specialist.
Marketing departments focus on brand awareness and generating leads, especially in B2B. It's the sales department that handles sending prospect emails.
Emails need to cover topics from initial responses to providing more information. They need to be segmented by each step of the buying journey. Then tailored to the individual sales funnel.
With an arsenal of the right quality and topic emails, sales staff can achieve higher sales success more quickly and efficiently.
Incorporate SEO
The biggest secret to SEO success is quality content that answers the question the visitor is seeking. The content must stay focused on the topic, i.e. the answer matches the reason the reader reached out.
The intent or question answered is generally the keyword.
Including appropriate links supports the viewer's experience. Internal links to other articles/blogs provide additional information relating to the question asked, or the next question that may be raised.
Internal links guide the viewer toward the logical next step. Information, compare, buy, and success.
You may also find these articles of interest:
SEO Content is Core to Success
Is this #1 Thing Hurting Your Email Marketing
Quality Content Grows Sales 300% Faster
---
Judith Culp Pearson is an experienced SEO Content writer and marketer helping businesses improve their ROI and Customer Lifetime Value. If you're looking to grow, engage more and build sales, you can message her via: [email protected].