Have you noticed that everything is on sale right now? Businesses are trying to recover from lost revenues. So many are focusing on slashing prices and having sales. It's a bonus for everyone right now, but are sales training your customers?
I don't know about you, I've lost count how many sales emails I get daily.
I had a friend, let's call her Kathy, who had a beauty salon. When things got slow, Kathy had a special. Discounted services. I remember a conversation we had…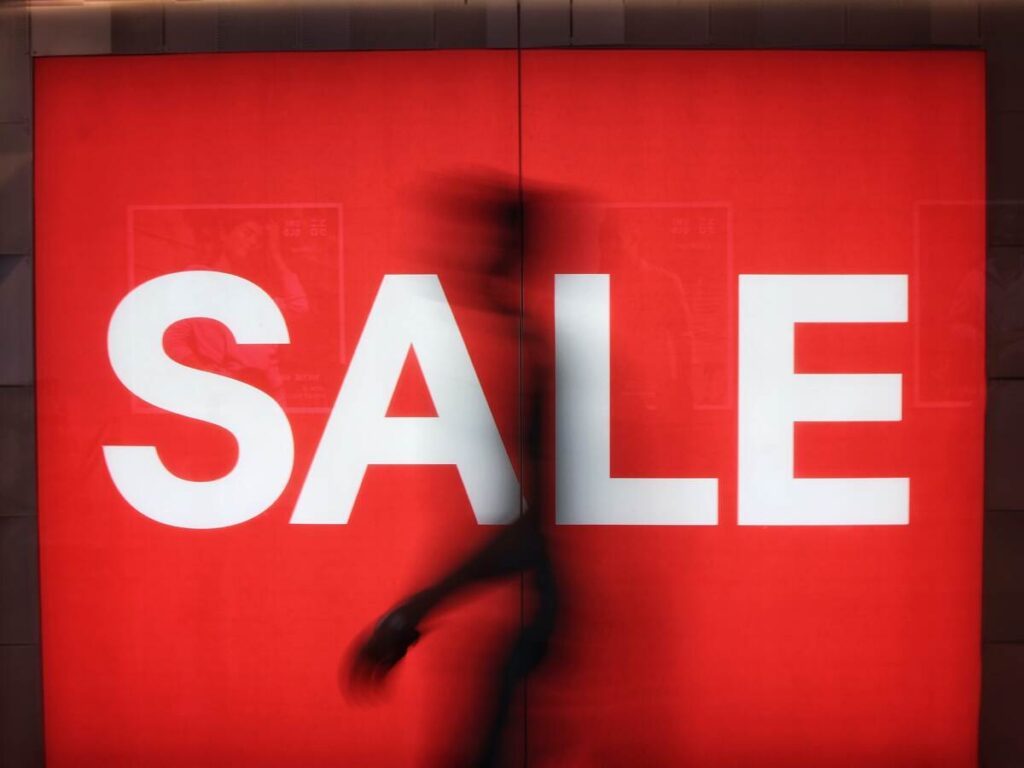 The high price of sales
"I'm so excited, things are picking up, Judi. Putting that special on Facebook really worked."
"I'm delighted for you," I responded but something I'd heard once kept niggling at the back of my brain. I didn't say anything as I certainly didn't want to be a downer.
Two days later I got a call," We're booked a month out! Clients are coming out of the woodwork for our specials."
So several months later when things slowed down again, Kathy ran more specials. The books again filled and Kathy was all smiles.
I didn't see Kathy for a while, then dropped in to visit with her at her salon.
The phone rang and she raised a finger to pause our conversation and reached to answer it. "Hi, this is Kathy, how can I help you.?"
I leaned against the counter waiting for her to finish.
"Specials? I'm sorry, you missed our offer last month."
From where I was standing, I couldn't miss the caller's response. "Oh well. Could you let me know when you're having your next special? I'll just wait."
My gaze flicked to Kathy's face...it was crestfallen. She had trained her clients to wait for sales.
I've seen this scenario repeated over and over by diverse businesses over the years.
Many department stores actually initially price goods above the MSRP knowing they will have to mark them down. They skim the cream with the first sales. Then in 5-6 weeks maximum, they start dropping the price....and it never goes back to normal. They have to move it out before the next batch comes in.
I used to love shopping with my girlfriend at Nordstroms in San Francisco. Our mission...to see what great new stuff had reached the markdown stage.
Think of your local furniture or mattress store… they are ALWAYS having some sort of sale. Instead of adding value or creating a desire another way, they focus on discounting products. Sure, we know they mark them up then mark them down, but they've trained customers to watch for the word sale.
Are sales training your customers?
It's important to keep in mind, our marketing techniques teach our customers what to expect from us. If we're always having sales, they lump us in with budget discounters.
It's the halo effect or guilt by association.
While it might be a win for businesses and consumers in a pandemic when most people's funds are crunched, this can become a fixed mindset or cycle.
Sales will become more and more dependent on the discounts you offer. They will become commonplace and expected.
With lower profits, it gets progressively harder for a business to stay viable. What you need...alternatives.
At the same time, your brand's value is dropping in the eyes of the consumer because of the constantly discounted prices.
3 Alternative Techniques
There are actually lots more than just three techniques, but these are particularly suited to those with an online presence be it products or services.
As an alternative to a discount, they tend to lean on scarcity and urgency as motivators.
Transparent Pricing alternatives
Transparent pricing is about showing "how" you control costs so you can offer a product at significantly lower than a competitor. You feature both the quality of your product, and the steps you take to control costs.
For example, Everlane is an online eCommerce operation. They have few brick and mortar stores, no traditional advertising, and offer no discounts.
This snippet from a Google ad explains their concept well:
Timeless Pieces Made with High-Quality Materials Designed to Last for Years. Shop Modern Luxury Basics. Ethically Sourced, Radically Priced. Ethically Made. Radical Transparency. Modern Basics. Types: A-Grade Cashmere, Luxe Alpaca, Soft Cotton, Italian Merino.
A look at their website confirms they have high-end goods and very few items on sale. I would assume those that are...weren't good sellers.
They also incorporate a social responsibility aspect with their 100% Human line. A portion of all sales benefits the ACLU human rights efforts.
Subscription alternatives
Dollar Shave Club is one of the best known of this type of marketing. By cutting out the middlemen, they went direct to consumer, D2C. They went with a simple basic product...a razor. Their target market 20-30 year-olds who wanted a razor without the frills.
For their subscription, they no longer have to remember to buy razors. The products are auto-shipped on a monthly basis.
This model used in the alternative health industry extensively. The challenge for the consumer is keeping up with their product usage so that they don't end up with a backlog.
It's a fact, some people use more than others. Options on the delivery schedule might resolve this issue and increase the customer lifetime value.
A variation on this theme are Membership programs. Commonly, there is an annual or monthly fee automatically charged. The member then either gets automatic gift packs or can use their "credit" to select items they'd like to purchase. Wineries and wine clubs often use this style.
Freebies and Extras
The products are sold at full price. For each purchase level, which varies from company to company, you get bonus gifts.
I've seen this used with cosmetic lines like MAC and IT. Cosmetics have a broader markup, especially D2C. The company can expose buyers to products they either love or haven't tried.
The perfume industry also uses this format to give extras with good cause. Why?
Studies by psychologists revealed the people would rather have a 2-for-1 than getting something at 50% value. They transfer the value of the priced item to the gift item...regardless of its true value.
A clothing company for surfers called Surfstitch also uses this model. They offer free gifts at the $100 and $200 mark.
The type of program you might want to incorporate could be one of the above or other alternatives. All rely on value, convenience, scarcity, and or urgency instead of giant markdowns.
When I work with clients, I want to understand their goals and ideal customer. Then I can recommend one of the various strategies to build brand value and loyalty without constant sales.