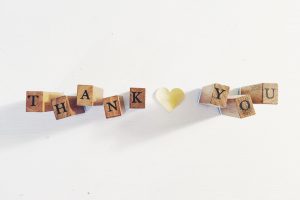 Five Ways to Appreciate Customers
With so many companies selling similar CBD products, the way you treat customers may be the reason they chose and stay with you.
When you acknowledge, reward and appreciate customers at every opportunity, you build a relationship that keeps them returning.
How do businesses leave you feeling?
A colleague and I were talking about companies we had done business with.
"I think about the difference in my interactions with AT&T and T-Mobile.
"With T-Mobile, I practically feel like family… with AT&T, I felt like a number on a corporate P&L statement meant to impress investors during the annual shareholder call."
"You're exactly right," I responded. "I was going to order some CBD using a coupon code a company emailed me.
"When I tried to use it, the coupon didn't work. It was late Friday and the sale ended Saturday. With the time zone difference, they were already closed. It was like they didn't really want me to buy from them even though I'd gotten emails every day."
But it also happens in person. In the grocery store, in the department store.
n far too many places the company or the staff gives us the impression we are more of a bother than a valued customer.
A visit to a popular cosmetic counter was like that.
More interested in escaping for a break than taking care of a customer who had been waiting the young lady told me, "someone will be right with you."
I saw her slip out of the kiosk and head away, phone in hand.  It was another ten plus minutes before I could get my question answered.
A stark contrast to the warm welcome I got every time I entered a White House Black Market store.
Humm… need a little shopping therapy? Think I'll go to WHBM instead of the mall.
Try these five strategies to show customer appreciation and keep them coming back.
1.Connect with Customers ASAP
Whether they are coming to your website or visiting your brick and mortar store, connect with them. Warm, friendly, conversational, helpful, problem solvers.
You have seconds not minutes to connect. In person you have marginally longer than on the internet. Think of your own experiences.
We form a gut impression in less than five seconds.
It's critical that your website makes them feel welcome and wanted.
If you have a retail store make sure your staff is well-coached in creating a positive customer experience. They need to ask questions to help them connect.
Can I answer any questions or help you find something specific? 
Are they trying to learn about CBD or are they looking for a solution to a specific problem?
Are they looking for an ingestible or topical?
Share pre-scripted information about CBD and how it works. 
If they are looking for a problem solution, what kind of results are they after?
Any special formulation they want to try or avoid?
If your store is online, you need to determine how it will be able to interact with a client in a way that mimics an in-person interaction.
And stay connected…
A new CBD company that I ordered from enclosed a quality feeling card. It has an inspirational quote and its wellness tag on one side, with the company logo and web address on the back. It's still on my counter.  A sophisticated, quietly unobtrusive way of keeping me thinking of them.
2. Say thank you
Look for every opportunity to acknowledge and thank customers for choosing you.
I work with one company that puts a handwritten note on every invoice or packing slip before it goes into the box.  It might just be "thank you" and signed by the packer. Or it might be more if they have interacted with the client on a regular basis.
That handwritten note and signature are much more impressive than a photo-copied memo that was clearly one of half a dozen on the same page. Even though it was in cursive, it didn't have the same genuine feel.
If they sign up and share their email…thank them for it with a warm welcoming email.
If you have just ten people on your list…you need to stay in touch with them. Staying in touch is a way to say thank you and you are valued.
3.Create customer award/reward systems
A customer appreciation system is a fabulous tool. People collect airline miles, discount rebates at Costco or points they can redeem for future product purchases.
We all love being appreciated or rewarded.
A recent study showed that when children are recognized and rewarded instead of criticized in the classroom their academic scores soared far more than expected.
Recognizing and rewarding pays big dividends.
If two businesses offer similar products, people will choose to do business with the one that treats them the best.
There are so many businesses that make us feel like my friend with AT&T… a number on an annual stockholder report.
Set your business apart by creating a warm, friendly community. But it must be tied to genuine honesty or it will come across false.
4.Recognize and appreciate customers for their referrals
A client who is telling other people about you is pure marketing gold. They need to be recognized and rewarded. Give them their own recognition system.
Not every business can afford to hire an influencer. And with influencers being paid it slightly degrades their believability by the consumer.
Not so with micro or nano influencers. These in-the-trenches, just-like-us folk, have a much higher engagement and believability rating.
Think of them as your own team of super-fans and treat them like the VIPs they are.
Being VIPs doesn't always mean we need to give them huge discounts.
What about rewarding with product samples?
How about giving them the first opportunity to try something before it's released to the general market?
Create a place where they know they are welcome to speak up and to share. Give them a shout-out for a great user picture posted. It is always surprising how little it takes to make people feel good and important.
5.Appreciate customers on social media.
It pays to reward and recognize your fans and super-fans on social media
Both Instagram and Facebook are great venues for getting your super fans engaged and involved. 
Testimonials, posts, videos are all super effective ways to build your reputation and customer loyalty.
Millennials love to be social. Consider contests or other offerings that stimulate conversation and interaction.
Do popups where they can see your products and interact with them? Get them engaged on your social media with an event catering to them.  Let them bring a friend and reward them if they do.
If they share a great testimonial, think about recognizing them and converting it to a success story that can help others.
When I work with clients
When I work with clients we look at what they have in place. Then we implement big and little touches to recognize, appreciate and reward customers to keep them loyal. It's far less expensive to keep a customer than constantly trying to replace them.
Need help improving your customer appreciation and retention? Want to know more about how I've helped others? Message me: [email protected]