Marketing: Create, Track, Rebook, Repeat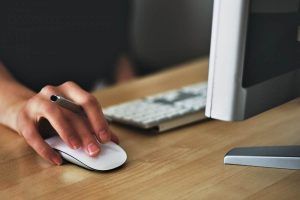 By Judith Culp Pearson
At some point in your business, you realize it needs more promoting. You need to expand your customer base. Grow your revenues. Be able to cover anticipated increases in overhead like rent. You need to do some marketing.
You've worked hard at collecting client emails. You've got people liking your business on Facebook, Google or Instagram. Maybe you've promoted your business on one of these avenues.  People "like" your page. Have they come in the door?
How do you know if your marketing attempts are working? Much of the time, there is no way. It's like throwing a dart blindfolded.
Consumer awareness marketing
Television, newspaper, radio, magazines, local school groups... everyone wants you to advertise with them. You love to support local, but what is your return on investment? Most methods of advertising will "increase public awareness", "build brand awareness." They don't necessarily bring people in. This is general advertising.
The goal of general advertising is to leave a mental picture of the business in our head. General advertising hopes at some time when we might be in the market for an item, we will think of them.
Think of all the ads for a sexy new car or a comfy new sofa just like the "celebrity" has. Maybe a repair person who can fix a clogged pipe or a broken drain. But if we just purchased a car or that new sofa, the ads just flow past us. We certainly aren't going to call for repairs when everything is working well.
Think of this as seed advertising. You plant the seeds and hope they will grow and blossom. But you never really know how well your dollars are working. If asked, people may say they found you on the internet.  Few can tell you exactly how.
Track marketing
There is another type of advertising. Trackable advertising. A coupon is trackable. Those codes you enter in to get an online special are trackable. If no one brings in the coupon, you know that didn't work. Don't repeat. Do something different.
Many cities have a coupon or offer based "magazines" that promote local businesses. These are nice, colorful, and lots of specials or discounts.  We all like those.  They also tend to be kept around the home for 2-3 months until the next edition comes out.  Since they encourage discounts, plan your offer carefully. Use something with a high value, low cost.
Take a tip from high-end spas.
They may use discount marketers like Groupon or Living Social or other pay per sale marketing. But they do it in a way to stay profitable.
They create a special offer rather than use something off their regular menu. This specialty offer is crafted to be very high value and priced accordingly.  Even at the discounted price, and after the marketer's fees, and all the costs associated with the sale, it is still profitable.  It may be a limited time offering. They may add it to their menu at its full price so the prospective client knows it's real. So much the better if the client loves it and wants to rebook at retail.
Track marketing on social media.
If you have an active business Facebook page, you can do trackable marketing there. Create a unique offer with a code attached to it. You can set it up to sell it right from Facebook. And you will know exactly how well it is doing. Trackable return on your investment.
You could also put offers on Instagram, Yelp, Google and your website. Make the offers a little different, or use different codes. You could put an offer in your monthly newsletter or send out a special e-blast. Again, make the code unique. You want to know which offer attracted your clients.
It may take a little testing and tweaking to find what hits your clients' hot button. But you will have more than seeds of hope. You will know exactly how well your investment is working. Trackable.
Rebook
When someone responds to a special and comes in for an offer it's time to rebook.  Give them a bonus.  If they re-book today, they can have another of the special offer.  For no additional advertising, your profit margin increases.
The client is going to be surprised and delighted to receive an additional special. It was a good deal when they responded.  Now they know how wonderful it and you are. It gives you the time to bond with the client and them to know and trust you.  You could give them an "in-house" coupon to share with a friend.  Another way to leverage your advertising spread the word, and increase revenues.
Review and repeat the cycle
Create a high-end amazing offer that will be profitable even with all associated costs of marketing it.  Track your results to know how well it is working and discover your exact return on investment. Rebook the client with another wonderful special if they schedule at that time. Repeat the cycle with another offer using the analytics you gained from trackable marketing and return on investment.
Judith Culp Pearson has over 30 years spa experience. She is an AWAI Verified Copywriter focusing on Alternative Health &Wellness.  Engaging prospects, success stories, e-newsletters, content enhancement all integrated for a positive User Experience (UX).  To see how she can enhance your ROI visit: www.jculpcreativcopy.com.