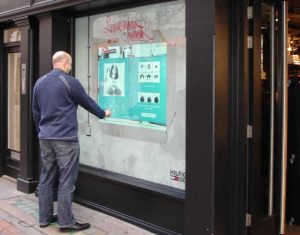 A Glimpse Into the Future of Spa
Each year technology zooms forward changing our lives. Who would have ever thought of a car driving itself? Now it's happening.
A whole generation is growing up with their own smartphone. The days of the single landline are gone. These changes are flowing over into the way we shop. And they drive the future of our salons, clinics, and spas.
Spas of tomorrow and into the future will be focusing on experiences rather than services. Why? It's change driven by technology, shifting viewpoints and needs of our clients.
Future means more technology...
More and more we will be using cutting-edge technologies. IPads and smartphones are replacing cash registers today. Tomorrow they will be replacing front desks. Barriers will disappear.
Boutique hotels, B&B's and restaurants have already done this. No desk, no office, no desktop credit card machine. Just an iPad or smartphone with a swipe attachment. Receipts sent via email or text. We see it happening around us in many types of business.
Appointments are moving off the columned paper and onto the computer. Clients can schedule appointments from their smartphone or laptop, online. It's frustrating for people to play phone tag with a busy salon receptionist. Instead, they log in and book online or submit an appointment request.
 Millennials will drive the future of spa...
In the 2016 ISPA report on consumer insights, they share survey results about millennials. They discuss the mindset, habits, and desires of those born 1980-1997. Millennials are the up-and-coming group that will take over dominating the economic market as the baby boomers age.
When it comes to appointment scheduling, 40% still prefer to use the phone. But 39% are now scheduling electronically. Only 17% make their appointments in person.
The top two things that attract millennials to spas are stress reduction and indulgence. The top two things that discourage them are finding the time and the expense. Nearly 20% cited that there were no spas available in their area. And 21% were not familiar with the spa environment and/or spa etiquette.
Millennials love technology.
We can use it to educate them in a fun interactive way about what it's like in the spa. Spa websites and touch screen panels are great for this.
Touch screen windows allow clients to interact 24/7. Even when you are closed, they can shop or schedule an appointment. It's a perfect opportunity to educate those millennials in an entertaining way.
In 2006, Ralph Lauren installed a 67" screen display in the front window of his Chicago store for the holidays. Kate Spade added these to her locations in 2013. The trend is spreading because it works. Today computers are incorporated into the front window design. In the future, the window itself will be the touchscreen. The technology already exists.
The interactive windows engage the client. They stay longer, have fun and "window shop". Retailers who use the technology found that it is less expensive than other forms of advertising. It also attracts new customers from foot traffic passing by their stores. Buyers can select delivery, or pick it up in store with no checkout lines.
How might this affect you...
Imagine. It's after hours. A group of friends who have been out to dinner, head back to their car and walk past your spa. The interactive window beckons them. They like the look of your place. "Let's have a spa day!" They step up and touch the integrated screen. Options pop up. They pick services, day and time. They tap the screen with their credit card. Done. You have prepaid appointments scheduled while you are enjoying family time at home.
Touch screen windows and touch screen monitors inside the store offer virtuality. Guests can try before they buy. Some of you may remember in the early 1990s when computers with external cameras and special software allowed a stylist to take an image of the client. The image displayed on the screen. The stylist could then show the client what she would look like with different hairstyles and colors. It was an effective bonding technique and communication builder.
The new touch screens leap this forward. They capture your image and allow you to try on different garments, makeup, hairstyles or colors with no risk and no use of a changing room. It is part of the new virtual reality – virtuality. It's "infotainment". Entertainment, experiences, and education. It engages the client. They love the interaction on their terms. Instead of browsing magazines, they can be dreaming of how great they would look "if". Waiting guests could wander in your reception and retail area and view interactive tablets explaining your fabulous treatments and products.
The future of spa is experiences
To enhance the entertainment experience, more spas are adding beverage bars. Wine bars, brew bars, coffee bars, juice bars. The product will vary with the nature of the spa. Refreshments create a relaxed environment. They invite you to stay, hang out. Just beverages or additional refreshments, the goal is the same. Create an awesome experience for the client.
Every few decades attitudes and viewpoints shift. This is happening now. The client doesn't want just a service salon. They want an experience location.  Guests don't want to be a customer; they want to be an individually valued guest. Guests aren't looking for a service provider. They want a fulfiller of dreams.
Even at the front desk, it won't be an appointment scheduler or check out staff. It will be a retail consulting specialist.
The focus will be on the guest. Spas will provide personalized guest experiences over a generic menu. Personalized creates a stronger emotional bond.
Emotion not logic brings guests in. It also keeps them coming back. Many clients fear they aren't pretty enough, sexy enough, tall enough, and the list goes on. They buy trying to conquer their insecurities. The spa is the natural place to help them reach their goals. Help them feel better about themselves.
Future products will focus on wellness
New products will address these viewpoint shifts. The "magic" potion in a jar that solves all ills is out. Women may want hope in a jar, but they don't get expected results. The product always under-produces. The new direction is beauty from inside out.
Nutritional supplements will take their place on the shelves alongside quality result-oriented skin care regimes.
Wellness techniques that enhance how people feel and look will be part of the experience. The trendy topic of mindfulness will continue to grow in the spa as an aid to wellness and reduce stress.
Increasing number of male guests
The most popular treatments are not shifting much. Massage is still the number one request with manicures and pedicures close behind. Facials come in third in requests.
What is changing at least with millennials is stereotypes about spa treatments. One significant change is with manicure and pedicure treatments. Traditionally these have been female services.
In their recent survey, ISpa discovered that of the males who had been to a spa in the past year, 52% had a manicure or pedicure. Facials have also shifted. Well over half of the male respondents stated they had had a facial at a spa. As this generation gains more free time and enhanced income, we can expect spas to see increases in this market group.
Needs of future guests get more attention
The survey also explored guest's wishes. What would most enhance their spa experience? A comfortable waiting area and showering facilities topped the list. People need a place to fix themselves up after a treatment before they go out into the public. In my travels to spas, this is my number one complaint.
People don't go to a spa in a vacuum. They go to relax, experience, restore. Then they head back out the door to shopping, meetings, dinner with friends.
Whether your spa is freestanding or located in a hotel, have an area where guests can have a positive finishing experience. For many women, leaving looking like a mess makes them self-conscious and uncomfortable. That isn't a good recipe for their return. It's an opportunity for cross-selling. If you offer hair services in your spa, ask the guest if they would like a shampoo/style after their massage or facial.
Guests love the details...
Guests also note complimentary toiletries and a personalized treatment enhance their spa experience. Make it all about the guest, not the menu. Look for ways to make it special for the guest and their unique needs.
Millennials will love it if there is complimentary Wi-Fi at least in some area. But 57% of them agree they need "technology time-outs" occasionally. A time where they step away from all things electronic.
When the spa experience is caring, welcoming, enhancing body, mind, and spirit, guests leave feeling better about themselves. They won't forget how we made them feel. That positive emotional bond will bring them back again.
The good news? We don't have to wait for the future. We can build those experiences now.