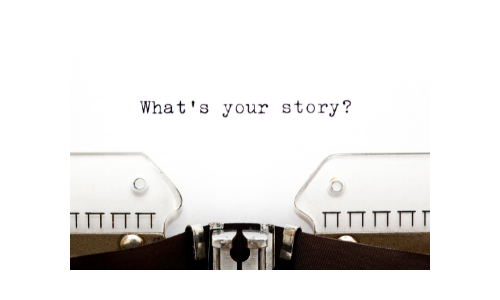 Stories differentiate you. Whether you are an online store, brick and mortar store, or any other type of business, you need to share your story. Your personal story will help you stand out in a sea of businesses.
Sometimes we can't see our own story
Several years ago I attended a women's business conference. During the conference, the leader stood up and addressed the group.
"Ladies, I have a request of you. If you could write a letter to your younger self, what advice would you give her?
"Send me your letters. Let's gather them and create a book of shared wisdom."
There was a buzz around the room as we digested this. Interesting. This was an amazing group of women and I wanted to be a part of it. What could I write?
I couldn't see that I had any wisdom story worthy of sharing. I'd had a pretty normal life, nothing weird or special. Somehow I missed the things that made me unique. Things like being raised in a home with a disabled sibling, facing cancer, divorce, and building successful businesses from the ground up.
A little saddened, I didn't participate. I wanted to but didn't know what I could write. I missed out.
Later they published the stories in a book.
When I read those stories, I realized those women were a lot like me. We had some shared experiences and some unique ones. We all experienced challenges, dilemmas and had to grow with the choices we made.
It made me realize I had not one but many little stories that I could share...just like this one.
Sometimes it's hard to see your own story. We can be so close to them we miss how they could create a connection with our target audience. And many times they are challenging to write because we are emotionally so close to them.
It's easier to tell someone else's story
I've found over the years, it's much easier to write a client's story than it is to write my own. We're raised not to brag or talk about ourselves. Writing your own story can feel like that's just what you're doing.
As a content writer, storytelling is a key component to help businesses grow. As an outsider, I use a discovery call to uncover potential client stories. And when I hear the hint of one, we dive into it.
Clients are often surprised at the outcome. "Well yes, I guess I did do that." They hadn't seen themselves the way others see them.
If you're having trouble identifying your story or telling it, you're not alone.  Sometimes the best answer is to get a professional to help you craft it, then share it like crazy.
Secret about stories
We're all hardwired to listen to stores. It's ingrained in our brain. When you share your stories, people will pause to read them. So by including a story, you are guaranteeing that your number one objective, getting their attention, happens.
With the right message, your readers will feel a connection with you and your brand. They feel you understand and "get" them. That leads to feeling you are safe to do business with—trust. 
They feel like you could help or benefit them. It can be a physical, mental, or emotional feeling better.
3 Story considerations
Before you can write it, you have to pick what the story will be.  Your selection is tied directly to your in-depth knowledge of your target audience.  Then it needs to follow a natural story path and in it, something needs to change. 
In my story, it was my mindset that had to change for me to tap into all the stories I could share.
Story relevance
Your story has to be relevant to your audience. You can find examples all around you. In the news, on social media, in magazines, or even YouTube stories.
If you're writing for a construction company, a story on how you learned to make chocolate silk cake, is not relevant.
Instead, share how you innovated or came up with a new technique that is more earth-friendly and controls cost would get a lot more attention.
What are the key concerns or pain points for your audience? What are they most concerned about? A story that addresses one of these needs will have the triggers to catch their attention and start to build that connection.
Need to follow the story path
Generally, it is a "hero's journey" story type. It starts with being faced and frustrated with a problem. Then moves into deciding to do something about it.
Few problems are solved smoothly. We follow the hero and connect with him because we've had a similar problem.
Often this becomes being the little guy against big odds. We empathize and root for them.
Maybe those odds seem pretty insurmountable. (Think Lord of the Rings or Star Wars.)
But in the end, as the goal is achieved, we cheer for the hero and want to know more about them—and your brand.
Need conflict resolution
Your story needs to have the problem, challenge or conflict resolved. Don't pick one where you don't yet have that accomplished.
It's through conflict, those challenges, that we learn. It also makes your audience side with you and cheers you on. The bigger your challenge, the bigger the enemy, the more they get excited for you to win.
When I work with clients
We work to keep it simple and short. The more simple it is, the more it will be remembered. If you let it drag on or get it too complicated, you'll lose readers.  
If you enjoyed this article you may want to read ACCA - 4 Key Reasons to Include Stories.
---
Judith Culp Pearson is a freelance copywriter marketer. She specializes in helping businesses build relationships that result in loyal customers with high customer lifetime value. [email protected]